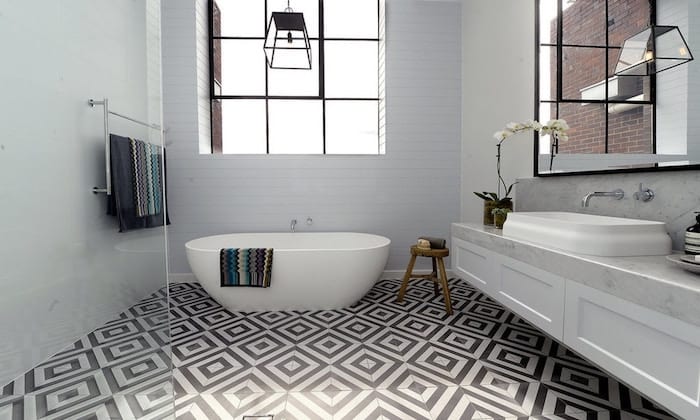 Designing a suitable bathroom plan is often a challenging task and if it is a small bathroom design, then challenges will increase even further. In a smaller bathroom, it is necessary to accommodate all the items and at the same time, people must get enough elbow space to move around comfortably.
Consult bathroom renovation Oakville, who has plenty of experience in designing and renovating many different kinds of bathroom of all sizes.
Following are different ideas that you can always implement, if you like to have a small sized bathroom at home.
Add accent wall
Adding accent wall is a great idea for small bathrooms. You may prefer to place accent wall on your back wall. Add color to the entire wall. With this technique, you can provide room depth without overwhelming it.
2. Add mirror walls
By adding mirror across on the wall, the room looks bigger. Particularly, this will be more effective above vanity or along any one side of narrow bathroom. Also, mirrors can reflect light and help you to get more light from light fixtures and windows.
3. Combine dark floors and lighter walls
Dark walls can make your already small bathroom look even smaller than usual. Bright colored walls can reflect more amount of light and give you a feeling of being larger. Prefer dark colors for your floor.
4. Continual flooring with curb less showers
Another idea for small bathroom design is curb less shower. Just by eliminating curb around the shower, your flooring will continue right into your shower. This can work great with tile, concrete and stone slab floors. Also, curb less showers can easily be cleaned.
5. Frameless shower panels and glass tub
It is a better idea to swap out the shower curtain by using a frameless panel of glass instead. This can open up bathroom significantly and also allow more amount of light into the shower or tub.
6. Lose the tub
As compared to showers, tubs usually take up almost 2 times of your floor space. By choosing to eliminate the tub, you can open up significant amount of your floor space. Showers are always great particularly for adults or senior citizens.
7. Pocket doors
Another great idea for small bathroom is, consider to switch from in-swinging entry doors to pocket doors. For installing pocket door you have to open the wall for creating the pocket.
8. Prefer wall cabinets and open shelving
Prefer to add shelving on your wall above the toilet, which is at the end of tub or just above the entry door or your vanity mirror.
9. Small sinks with floating vanities
Wall mounted sinks can also be an excellent way of saving floor space and you can make your smaller bathroom look more open. Try for wall-mounted floating vanity.
10.Wall mounted toilets
In your small bathroom, if there is space available in the walls to add build-in toilet tank, then you can save your floor space and also legroom with wall mounted toilet. In case, it is not possible, then consider adding shelving above the tank for getting an extra storage space.